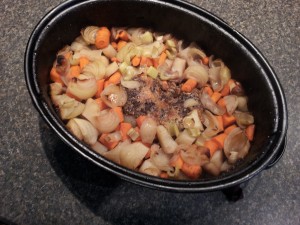 I've always liked a roast with a lot of potatoes and carrots and onions. It never seems like there is quite enough. When I make this roast, I use a lot. I like this recipe also because of the dijon mustard, horseradish, and garlic; there's a lot of taste to be had here. The wine, too, adds a lot to the taste. I use an inexpensive Cabernet Sauvingnon.
There is a little bit of prep for this recipe, but it's not horrible. Just some peeling and dicing the potatoes and carrots, cutting up the onions and celery, and slathering the roast with Dijon mustard and horseradish, and sprinkling Panko bread crumbs. Easy-peasy.
Ingredients
Beef Chuck or Pot Roast, 2-3 pounds
3 cloves of garlic
Dijon mustard
Horseradish
4 large potatoes
1 pound of carrots
3 medium-size sweet onions
2 celery stalks
1/2 bottle red wine (Cabernet Sauvingnon)
Directions
1) Preheat oven to 450 degrees
2) Cut about 16 thin slices from garlic,  cut an equal amount of slices in the roast about 1/2 inches deep, and put the garlic slices in the slits.
3) Cover the top and sides of the roast with Dijon mustard. Do the same with the horseradish. Sprinkle the top with the Panko breadcrumbs.
4) Spray the pan with cooking spray, put the roast inside, and cook uncovered for 25 minutes.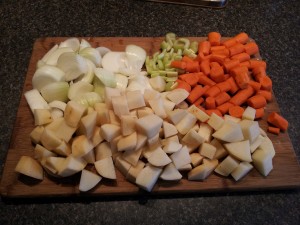 5) While the roast is cooking, peel the potatoes and carrots, and dice into one inch pieces. Peel and quarter the onions, and cut each in half. Wash and cut the celery into 1/2 inch pieces.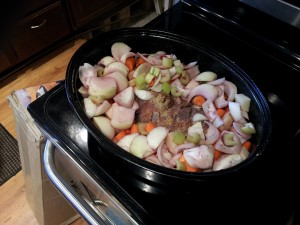 6) Pull the roast from the oven after 25 minutes, add the vegetables to the pan distributing evenly, add the wine, and cover the roast.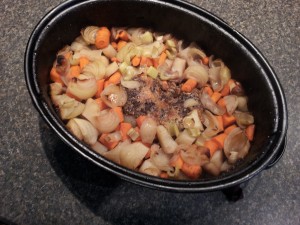 7) Set the temperature at 375 degrees, and return the roast to the oven to cook for 2 hours.