Chicken soup is one of my favorite recipes and one of my favorite ones to eat. It's simple to make, it tastes good, and it's good for you. And the ingredients are inexpensive. What's not to like?
This recipe is flexible, accepts a number of different ingredients, and still turns out well. For instance, the vegetables can be fresh or frozen, you can choose between potatoes or beans – you can choose between white beans, black beans, or chickpeas, and you can opt for uncooked wide noodles, long-grain rice, or barley.
I like lots of vegetables and chicken, so my soup sometimes turns into a stew, which can be nice, too.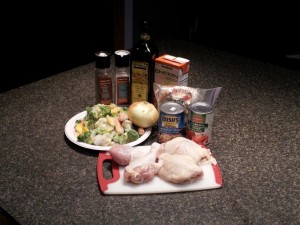 Ingredients
2 tablespoons extra virgin olive oil
1 medium onion chopped
1 pound of vegetables
32 ounces chicken broth
1 can diced tomatoes
1 14 ounce can of beans (white beans, black beans, or chickpeas) / or three potatoes diced
1/3 cup barley / or 4 ounces wide egg noodles / or 1/2 cup long grain rice
4 chicken thighs (or 2 thighs and 2 legs)
Ground black pepper & salt to taste
Directions
1) Heat two tablespoons of the oil in a large pot over medium high heat.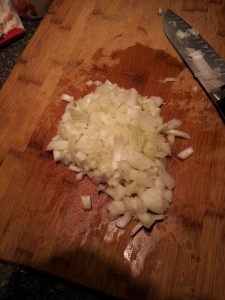 2) Chop and cook the onion for two minutes until softened.
3) Add a pound of assorted diced vegetables to the pot.
4) Cover the vegetables with broth.
5) Add the diced tomatoes and beans, stir and cover with broth.
6) Mix in the barley.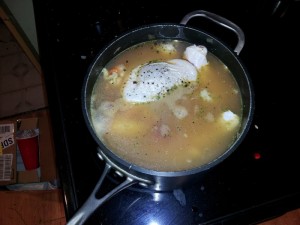 7) Add the chicken and cover with broth.
8) Turn the heat down to halfway, and let the soup simmer for 20-25 minutes.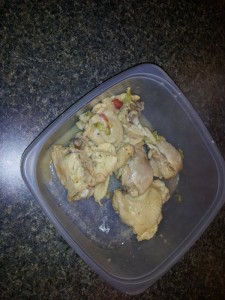 9) Remove the chicken, let it cool slightly, and remove the meat from the bones. Discard the skin and bones.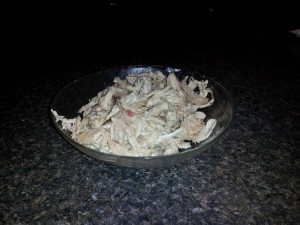 10) Return the chicken to the pot, and let it simmer another 15 minutes.